Loadshare is the first logistics NP to achieve on-network delivery for ONDC.
Loadshare Network is spearheading logistics delivery solutions for the Beta city launch of ONDC's pilot project. Beta testing is taking place in 15 select cities before the national roll out. These cities are - Bangalore, Bhubaneswar, Chandigarh, Dehradun, Delhi, Guwahati, Hyderabad, Jaipur, Kolkata, Lucknow, Mumbai, Patna, Pune, Siliguri and Trivandrum. Loadshare Network provides Hyperlocal, Standard, SDD and NDD services for F&B and Groceries categories in these cities.
ONDC stands for Open Network for Digital Commerce. The purpose of ONDC is to develop and promote an open and fair e-commerce marketplace for all. ONDC is a private non-profit Section 8 company established by the Department for Promotion of Industry and Internal Trade (DPIIT). It was incorporated on 31st December2021 with initial investment from Quality Council of India and Protean eGov Technologies Limited (formerly NSDL e-Governance Infrastructure Limited). ONDC is not an application, a platform or technology. It is a set of specifications/guidelines to foster open interchange and trade between shoppers, technology platforms and retailers. ONDC isn't just limited to the retail sector alone, it is designed to facilitate any digital transaction between a buyer and a seller, anywhere in India, for goods and services including wholesale, mobility, food delivery, logistics, travel and urban services. It will also cover Business to Business (B2B) transactions.
ONDC connects buyers and sellers via a defined set of communication protocols like BeckN. This can be better explained with an example.
Market Players: Buyer (You), Buyer-side Apps (Paytm, PhonePe etc), Aggregators, Gateway (Similar to NPCI for UPI), Seller-side Apps ( Seller's Onboarding aggregators) Seller (Merchants), Logistics ( Loadshare Network and other delivery service providers).
The Buyer X logs into a Buyer-side App
Buyer X searches for Oranges. The Buyer-side App converts the search item into a uniform product code, communicates with the ONDC registry, searches for the item in the Seller-side App and returns the results to Buyer X
The results can be listed by buyer-determined parameters like distance, self pick-up, lowest price, delivery in shortest time, to name a few.
Buyer X selects the store/aggregator for the item. Furthermore, If buyer X can decouple the delivery from the purchase and select his/her preferred delivery partner.
Buyer X can then pay for the item via multiple payment options including payment on delivery.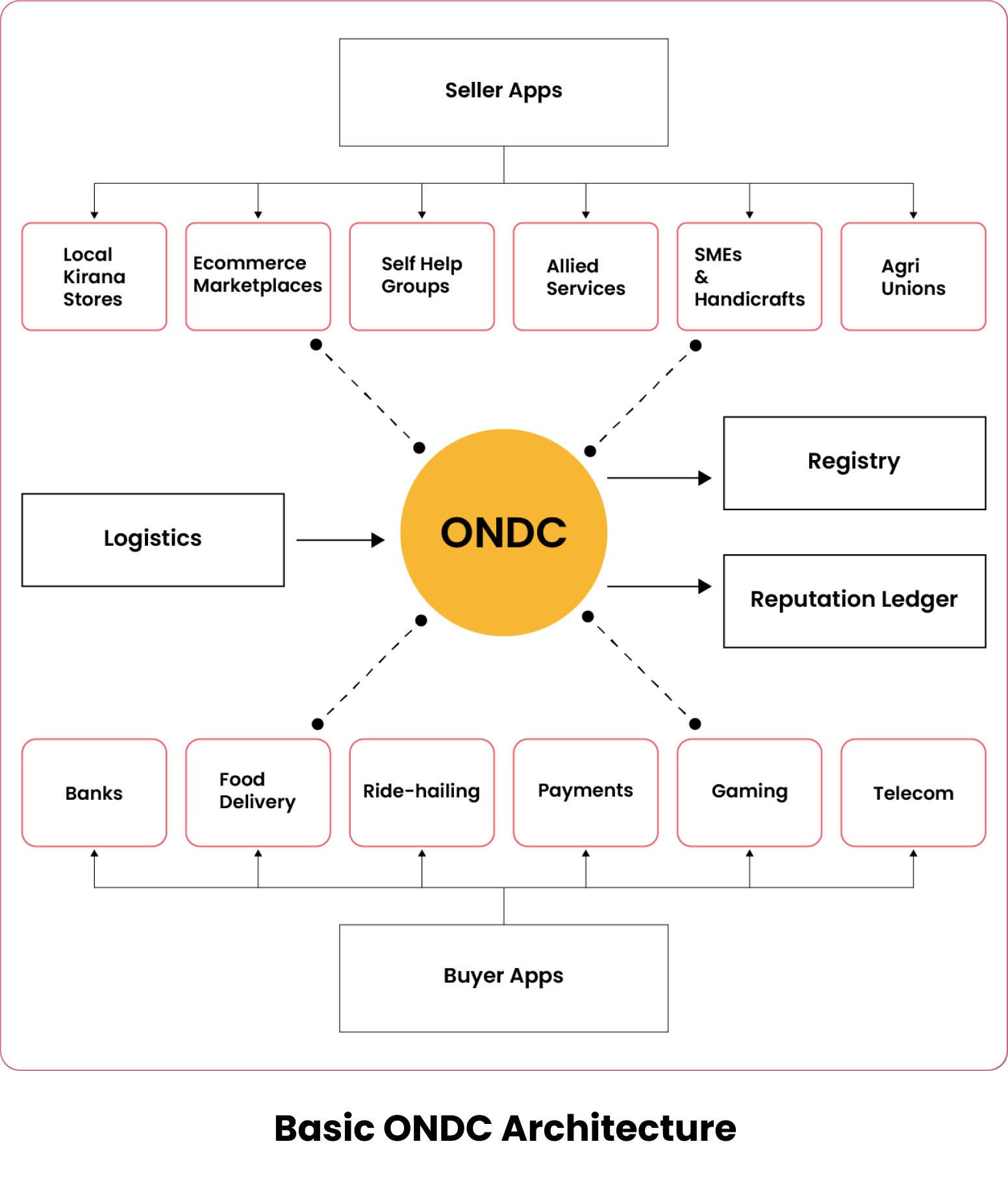 The buyer-side and seller-side Apps control the UX – similar to how PhonePe and Google Pay control your journey within their Apps.
All communication happens via open APIs.
Data is stored anonymously in an aggregate and abstract manner within the DEPA framework for statutory, registry, security and operational reasons.
Other open networks can freely connect with ONDC as long as they follow BeckN protocols. OCEN (Open Credit Enablement Network) can be a significant credit enabler by providing short-term, quick credit to Kirana Stores to meet their business cash crunch exigencies.
ONDC will maintain a single, multi-domain registry.
National protocol – Anyone can order from anywhere.
One-stop-shop. Enrollment is one-time only, no renewals required.
How are these Buyer-side and Seller-side Apps helpful?
Buyer-side App controls the buyer side UX and seller-side Apps can innovate for the seller within the ONDC framework. This makes interaction more responsive to both parties' interests, unlike platform-based e-commerce where the rules of engagement are set by the platform and vary from platform to platform. BeckN protocols govern the interaction within the ONDC ecosystem. Consider UX and cross-selling tactics of PhonePe, Google Pay or Paytm as an example.
Consider this - only 15,000 of the 12 million Kirana Stores in India are online. That's only 0.13% of the total universe. Furthermore, digital penetration in India is only 4.3% as against 25% for China. Now measure this against the growth potential of the Indian e-commerce space which expected to more than double in 5 years from US$ 46 B in 2020 to US$ 111B in 2025. Currently, the e-commerce space is a closed environment controlled by individual platforms who dictate the onboarding experience, terms & conditions, discoverability and last mile logistics. They also control the UX of the buyers. ONDC aims to remove all these inefficiencies/obstacles and create a uniform playing field and universal communication code amongst market players. To put this simply, if you were using an IOS operating system before, ONDC is proposing an android for the masses. You get the point of difference?
Want to know more about this?